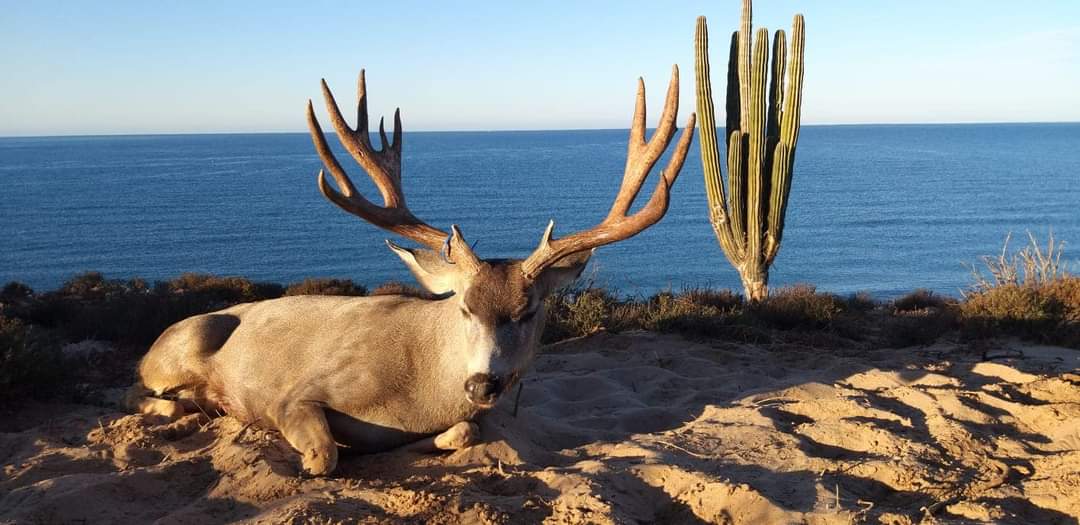 Desert Hunts
Mule Deer (Odocoileus hemionus)
It is a large and robust deer. The antlers branching dichotomously, in contrast to the white-tailed deer which are fingerlike. The tail is sparsely populated in hair, of a uniform color yellow with the tip topped with black hairs. The ears are very large. Adult males have a dark reddish or almost black Testus.
Most of the time we harvest the trophy in 3 days top, our package come with an extremely high chance of success and great trophy potential and great opportunities with our premium Mule Deer area in sonora old mexico, we consistently harvest great trophys for our hunters.
We pride ourselves on offering the best free range available in Sonora old Mexico

All of our hunts consist of one guide and one wrangler per hunter during your 6 day hunt you can expect to travel by car throughout the territory you will require to be mentally prepared patient and at the same time your shooting skills really sharp, our expansive hunting concession with over 150,000 on same area gives the truly free range experience under a 100% natural habitat consistently produces bucks over 5 1/2 years of age with an average 180+ and wide 30 inches over past seasons we've had a perpetual success rate of 80% our 150,000+ acres our concession's are on north east region of Sonora desert is well known for its desert Mule Deer densities, dark horns and superb genetics.

we supports a healthy population with our comsevation program of desert Mule Deer.
when to come? the season opens in early January the bucks are generally on rut and It's during this earlier month that it's typically best to hunt desert Mule Deer and the desert weather is generally cold during our rut.

Official SCI scoring
Available dates: only January 2025

Hunt includes:

Tag
Gun permit
1×1 Guiding
Lodging/Accommodations.
Food and beverages while hunting (excluding alcohol).
Transportation within the hunting territory _ arrive and depart airport.
Trophy preparation of animal
Field preparation of animal
Facilities taxidermist
No meat out of camp
Range price $15.000